Olive Oil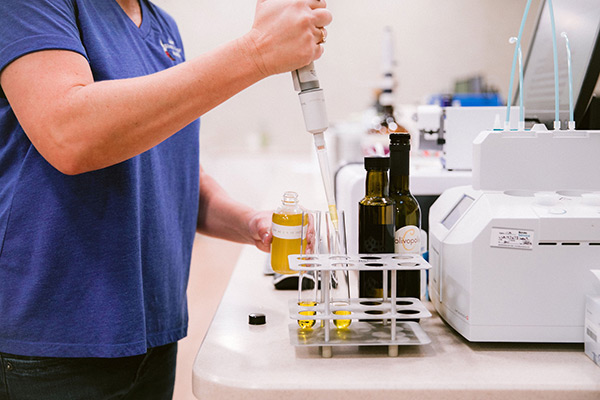 BWGA offers the following Olive Oil analyses:
<5000 Pack for COOC (for producers of <5000 gal submitting to COOC): Free Fatty Acidity, Peroxide and UV: $90
FFA, Per, UV & MOI Pack: Free Fatty Acidity, Peroxide, UV Analysis and MOI: $120
Polyphenols: optional test, $90
Moisture and Volatiles: optional test, $37
Best Before Date: optional test, $90
Sample size for each oil is 100mL, samples can be dropped at the lab or shipped to us. Click here to set up an account or request pre-paid shipping labels through the Client Portal.
The California Olive Oil Council (COOC) Seal Certification Program has the following chemical requirements for extra virgin olive oil (for those producing less than 5000 gallons):
Free Fatty Acid (FFA): <0.5%
Peroxide Value (PV): <15 meq O2/kg
UV Analysis

A232: <2.4
A270: <0.22
ΔK: <0.01
Polyphenols, although not a required test by COOC, is of interest to many olive oil producers as it is a measure of antioxidants in olive oil. Some varietals, such as Koroneiki, naturally produce high levels of polyphenols, resulting in a strong (3 cough) sensation upon tasting.
Polyphenol values in mg tyrosol/kg:
<250 mg/kg: Low
250 -400 mg/kg: Medium
400 - 550 mg/kg: High
> 550 mg/kg: Very High
Induction Time for Calculating Best Before Date:
The Rancimat test (Induction Time) is used in the plant oil industry for predicting rancidity. It works by blowing air through a heated sample and measuring the time until the oil goes rancid. Best before date (BBD) can be estimated for EVOO.
---
Download Labels Here! Label Template: Avery 5163
Stop by the lab for complimentary sample tubes!
---
Vinegar
The first couple of times we were asked to analyze vinegar here at the lab, it was due to a 'Wines Gone Bad' situation. But in the past several years, gourmet vinegars - planned and hand crafted – have become much more common. Pomegranate vinegars, plum vinegars, red, white and rose wine vinegars, peach vinegars - so much variety.
We are asked to analyze for the percent acidity of the vinegars, and so we do.
Percent Acidity: $25
Sample size: 50mL