About BWGA
Accurate, fast, friendly. Baker Wine & Grape Analysis delivers the science to support your creative vision.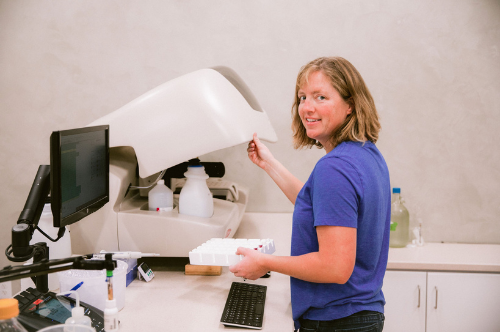 The Lab
Baker Wine & Grape Analysis started in January of 2002 and grew rapidly into a well-equipped laboratory offering a range of analytical services for the wine industry of the Central Coast. In December 2002, lab founder Dr. Brenda Baker earned TTB Certification for Wine Exports and BWGA began reaching customers far beyond the Central Coast.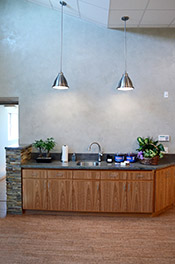 Over time, the lab expanded its services beyond grapes and wine. BWGA earned approval from The California Olive Oil Council to provide chemical certification for extra virgin olive oil. Microbial services such as bottle sterility, microbial cultures, yeast count & viability and DNA analysis have been added to the lineup. Distilled spirits, kombucha, cider and beer analysis services were also added as those local industries began to thrive.
The laboratory moved to its current location near downtown Paso Robles in 2015. Our team loves providing great service and accurate results for the industries we serve, and we always look forward to working with you!
---
The Baker Wine & Grape Analysis Team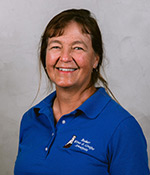 Dr. Brenda Baker
Founder, TTB Certified Chemist
Dr. Brenda Baker earned the title of TTB (Alcohol and Tobacco Tax and Trade Bureau) Certified Chemist in December 2002 and has been analyzing wine and juice for an ever expanding customer base since. Dr. Baker earned her Doctorate in Biochemistry from Colorado State University in 1992 with an emphasis on protein chemistry, and taught Chemistry at the University level at Colorado State University, University of Colorado and Cal Poly, San Luis Obispo. In 2022, Brenda sold the business to her long-time Operations Manager, Heather Mikelonis.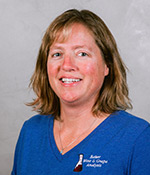 Heather Mikelonis
Owner
In 2006 Heather began working at Baker Wine & Grape Analysis to help with accounts and upgrading the technological processes. With a Master's Degree in Therapeutic Recreation from Indiana University, her expertise was not initially in the science field but Heather has become an integral part of the lab. After 15 years of working in all areas of the lab, Heather purchased it from Dr. Brenda Baker. She is excited to continue operating the lab as a local asset to the wine, cider, olive oil, beer and spirits industries.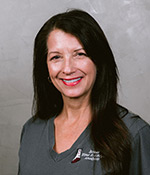 Barb McFadden
Bookkeeper
Barb began her career in the banking industry and has been our bookkeeper since 2015. After raising a
family and running a successful electrical contractor company with her husband Russ in Thousand Oaks,
they decided Paso Robles would be an ideal place to relocate. With over 25 years of bookkeeping experience, a great sense of humor and a genuine interest in the wine industry she is a perfect fit for Baker Wine and Grape.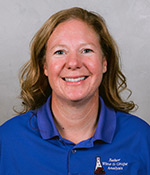 Sherrie Holzer
Lab Chemist, TTB Certified Chemist
In the beginning of 2018, Sherrie joined the Baker team with an impressive resume. She graduated from Fresno State with a Bachelor of Science in Enology and Chemistry, holds a wine business certificate from Sonoma State, an Advanced Sensory Certification from UC Davis, is a TTB Certified Chemist, and has obtained WSET Level 3 certification. With over a decade of diverse experience in professional winemaking, Sherrie is not only a full member of the Baker team in the lab, she has also developed and implemented our sensory analysis program. Troubleshooting and puzzle solving makes Sherrie's day, so feel free to bring in your problems (beverage only please - Sherrie is a lot of things, but a licensed psychologist she is not).
Rebecca Chapman
Lab Chemist, TTB Certified Chemist
Rebecca joined our team in the summer of 2019 as a Lab Chemist with a strong background in science and the wine industry and is also a TTB Certified Chemist. After graduating from West Virginia University, Rebecca began her career in a Molecular Biology lab for the Centers for Disease Control. She has also worked in public health and clinical research and during a few months off to take a breather, Rebecca went out on a whim and answered an ad for a harvest intern in Oregon. So began her journey in to the wine industry where she worked multiple harvests between the US and New Zealand while also completing the UC Davis Winemaking Program and obtaining WSET Level 2 Certification.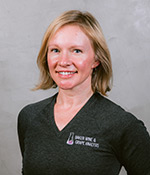 Amy Freeman
Lab Chemist, TTB Certified Chemist
Amy joined the lab for the 2019 harvest. With a B.S. in Nutrition and over two decades of experience in the wine industry we are happy to have her on the Baker Team! Amy has experience both in wine production (lab tech, cellar worker, enologist, assistant winemaker and winemaker) and in the vineyard, and is a TTB Certified Chemist. She is an active volunteer with the Vineyard Team and is on both the SIP Certified Vineyard and SIP Certified Winery technical advisory committees. During her free time when she is not out hiking with family or friends, she is also on the board of ECHO and a soccer coach. She is always happy to be fostering the amazing sense of community that exists on the Central Coast!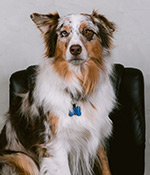 Cinnamon Girl
Happiness Coordinator
Also lovingly known as Cinna - she became a member of the Baker puppy crew in the summer of 2017. With her adorable eyes and super smart brain, we are glad to have her here to entertain us and give a friendly welcome to all of our customers!